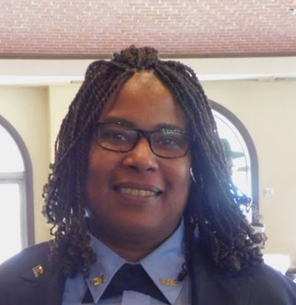 Who is Gwendolyn "Gwen" Sistare?
Mother of two sons, Lyndel, 27, and Gregory, 15, and grandmother to two wonderful grandchildren, a grandson Alphonzo, 3, and granddaughter Nyla, 8. I am a proud member of the Progressive Fire Fighters Association, Washington, DC, a chapter in the Southeast Region of the International Association of Black Professional Fire Fighters (IABPFF), Inc.
Born and raised in Washington, DC, I graduated from Francis Cardozo Senior High School in 1988. After graduating high school, I joined the DC Fire and EMS Department as a fire cadet. I joined the IABPFF, Inc. in 1990 after working under two past presidents, Romeo Spaulding and Theodore Holmes.
Education Matters
While working for DC Fire and EMS Department, I enrolled at the University of the District of Columbia to study accounting. I completed my studies with a Bachelor's Degree in Accounting in 1993 and a Master's Degree in Accounting and Financial Management at the University of Maryland Global Campus in 1996.
Experience Counts
I have worked in the fire service for 33 years. I have experience as a Fire Fighter, NREMT, HazMat Tech, and Vice Tech with DC Fire and EMS, retiring on October 3, 2020. I am an African American Female Business Owner (Black Owned Business) operating since January of 1994, offering accounting and tax services in Washington and states across the U.S. I have worked with several non-profit organizations as treasurer. I am currently the treasurer of the IABPFF, Inc., Progressive Fire Fighters Association, Washington. DC, Black Mothers of an Autistic Child, and Black Tax Professionals of Washington, DC.
Position Charge: Roles an responsibilities of the office of Treasurer. Per section 12 of the IABPFF Constitution and Bylaws. The Treasurer shall be the chief custodian of the funds of this Association, and shall countersign all checks with the International President, or in his absence, with the Executive Vice President. He or she shall make monthly reports to the International Executive Board and forthwith deposit any monies received by the IABPFF. He or she shall upon request, open the books to any member of the International Executive Board or by petition of six (6) members in good standings of the IABPFF with written request via the Regional Director. He or She Shall: 1. Compile and disseminate all fiscal information to chapters. 2. Stimulate the economic growth and financial stability of the IABPFF 3. Collect Membership / Chapter / Regional dues; 4. Advise the IABPFF Executive Board of the financial status of the organization.
---