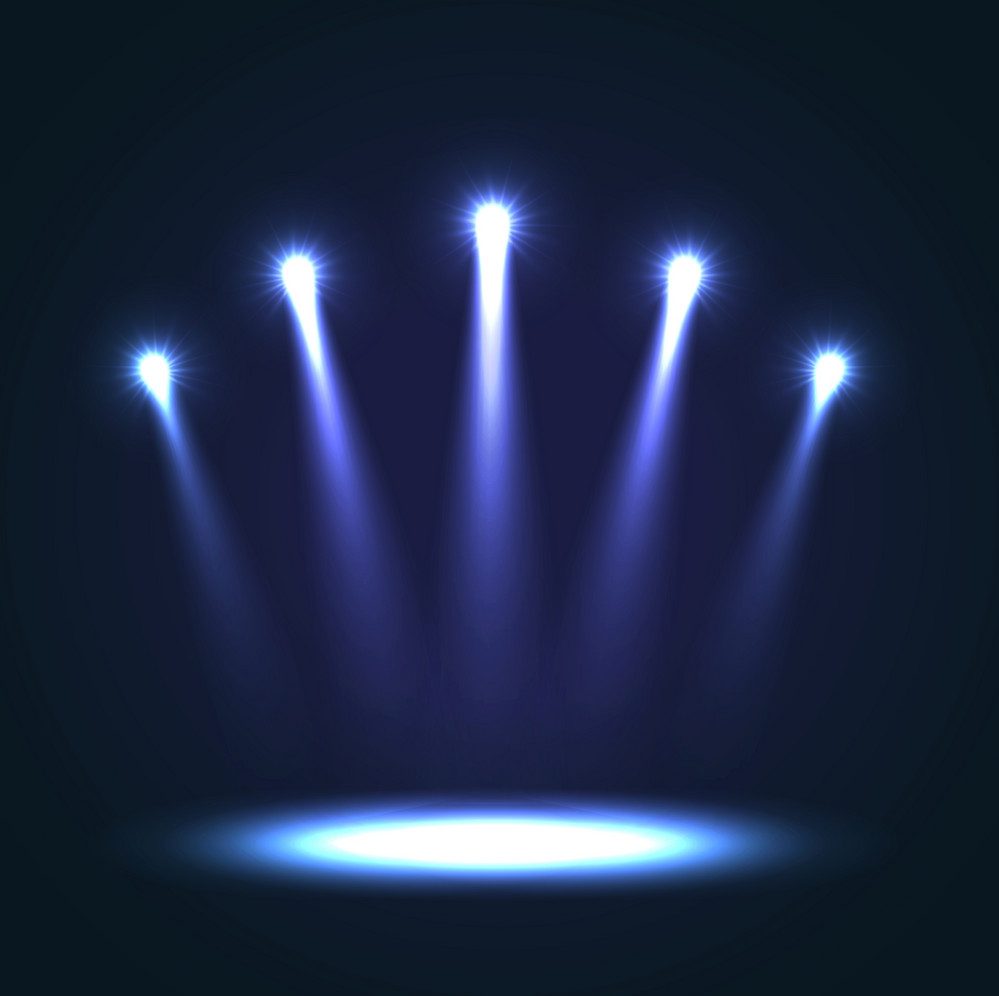 This quarter's Spotlight member is James T Lee. Member of the New York Vulcan Society/Palm Coast chapter North East region.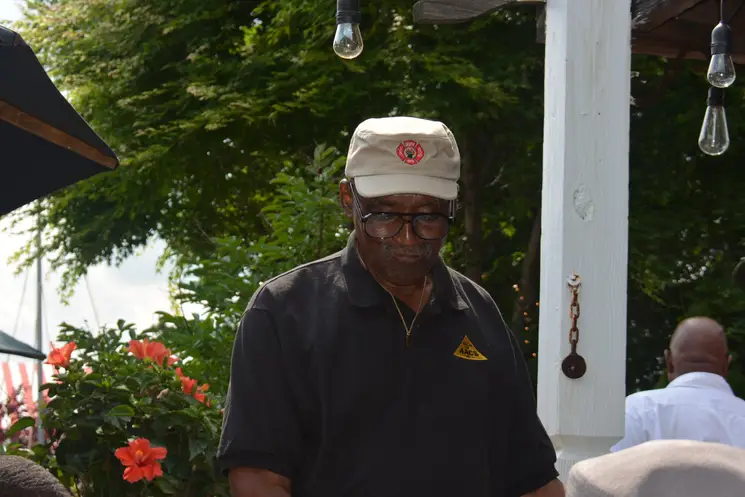 James T. Lee was born July of 1931 in Brooklyn, New York and was educated in the NYC public schools. The baby of 7, 5 boys and 2 girls he grew up in a tight knit family. His reserved, stern no nonsense father's discipline, along with the loving, nurturing spirit of his mother, made him the man he was to become and is today. As an average teenager he enjoyed social activities, but he met Elva S. Roberson at their family church Brown Memorial Baptist Church in Brooklyn. After graduation from high school he enlisted in the United States Air Force serving from May 1950-February 1954. A Korean War veteran, he served a good part of his military career at Royal Air Force Burtonwood in Cheshire, England. It was there in 1952 that he married the love of his life and later their first child was born.
After his discharge he moved his lovely bride Elva Lee and his son James Lee Jr. back to New York and continued his vocation as an aircraft maintainer with Lockheed Aircraft Service at what is now JFK Airport. Staying with family for a while he and Elva bought their first house a year after his discharge. Although he enjoyed being an aircraft mechanic there were labor disputes causing too many strikes for the financial health of the Lee family. This was a turning point in the life of Jim Lee having to leave a job with over 10 years' experience to move to the unknown. For him the unknown was the public service applications that he had put in with the New York City Police and Fire Departments. Although the NYPD called him first, he didn't move until the FDNY offered him a position. The salary of $5,200.00 was a pay cut from the $8,000.00 he was making, yet he and Elva, a homemaker at the time, decided they could live off that.
In April 1961 Probationary Fire Fighter James Lee answered his calling to be a fire fighter and started a career that he still loves to this very day. Shortly after his appointment he became an active member of the Vulcan Society, Inc. FDNY. His first promotion came in November 1969 when Lieutenant James Lee was assigned as a floating officer in the battalion. Before being permanently assigned to Engine Company #234 in Brooklyn after a suggestion from John Ruffins, who was leaving a lieutenant position there. Less than 8 years later in January of 1977 Captain James Lee was assigned to Ladder Company #142 in Queens, just 2 miles away from his home, giving him the opportunity to survey his response area as he would often be walking to and from work. These years were not only spent navigating a fire service career, he was being a devoted husband to a very supportive wife and a loving father to his daughter and 3 sons.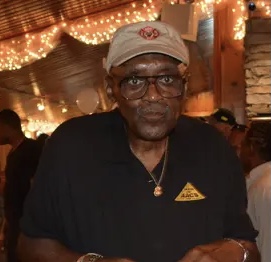 If the aforementioned career and family work life balance was not enough, Brother Lee attempted to be of assistance to the Vulcan Society, Inc. FDNY.
In reflecting about his involvement with the Vulcan Society he says, "I was amazed at how organized these guys were". Wanting to be helpful Brother Lee would always offer to serve in any way that he could. For the first few years the response to these offers was no. Brother Lee said" I didn't look at it as a no, I took it as a not yet". They finally took him up on his offers and allowed him to use his gifts and talents for the good of the organization. If something was going on he was there to represent the Vulcan Society well.
Jim was given unlimited get out of the house passes from his wife as she knew what these men were doing was very important. Every chance she got to travel with her husband and The Vulcans she accepted the invitation. One of the men who Jim developed a special relationship with was Brother Vincent Julius. These guys and their wives traveled together for years and even ended up with their retirement homes not far from each other. Eventually Brother Lee ran for his first elected office in the Vulcan Society. After submitting a nomination petition with 5 members' names he ran successfully for Sergeant at Arms. He later became 2nd vice-president, a position he saw as significant because he also sat as chair of the membership committee. He valued the importance of recruiting, marketing, communicating with members, dues collection and making the appropriate battalion representation assignments to accomplish these tasks. He also served as 1st vice-president before becoming president. President Lee under his administration implemented the Godfather program. This initiative paired Vulcan Society eligible probationary fire fighters with Vulcan members in the officer ranks. This was the way The Vulcan Society chose to show their support for the women of color who were entering the FDNY.
Jim Lee is one of the few still alive that was at those summer of 1969 executive board meetings of the Vulcan Society, where the seed was planted to establish the International Association of Black Professional Fire Fighters(IABPFF). He was telling me about all the work that was put into the first ever gathering of Black fire fighters in the world held October 30th thru November 1st 1969 at the Commodore Hotel in Manhattan.
I asked him about committee assignments and his role specifically in making this historic event happen. He said "It was simple, you did what you were asked to do and went where you were told to go". When asked about the planning meetings by the founding 5 organizations to host the first ever Black fire fighter convention to form the IABPFF he says' "These guys were intelligent and well informed, they were extremely dedicated to the mission they had to accomplish during the time frame that they had and didn't take a break until the work was done for that day.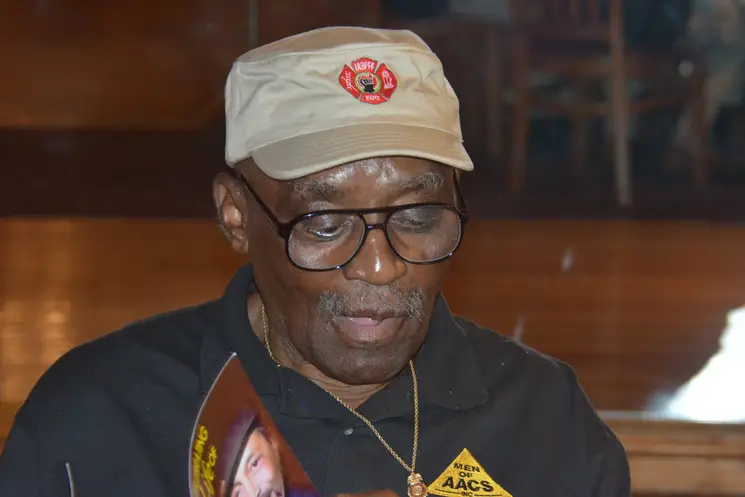 It was a pleasure to see fire fighters from 5 different cities committed to work so hard on a project in the hopes that it would last". Brother Lee and his wife Elva, have been regular attendees of the IABPFF conferences and conventions since they first started in 1970.
He can be seen giving words of wisdom while walking the halls of the conference. You will find him sharing history in the conference settings of workshops or general sessions. And there is always the advice and counsel that can be received from him at the social gatherings like the hospitality suite. Jim shared with me that he and Sister Elva thoroughly enjoy attending the IABPFF gatherings.
Some of us remember the days where he would sell his newest Black fire fighter related items. Mrs. Lee proudly states "I can only remember missing one convention since they started and that was the first visit to Detroit ". "We are going to keep coming as long as we are able to, I love the way everybody treats us Royally". As much as Jim and Elva Lee love their Vulcan Society and IABPFF family, they now reside in Palm Coast, Florida being showered with affection with the continuous visits from their 4 children 10 grandchildren 14 great-grandchildren and 1 great-great- granddaughter. They are proud of 2 additional generations to be members of the fire service: 1 son retired from the FDNY, 1 grandson retired from another jurisdiction and a grandson who is active in the fire service in Maryland.
---
The spotlight member of the month is awarded to a member that goes above and beyond in the area of service to their local chapter or region or the international.
Please email or upload your nominated member of the month with the upload button below.