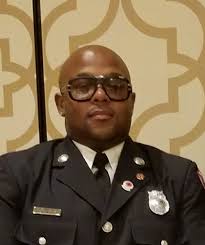 I am the North Central Region Director, a 24yr veteran of the Milwaukee Fire Dept and a
Heavy Equipment Operator for the past 17yrs. I started my career at 18yrs old in the MFD Cadet
program in 1996. This program was developed and pitched to MFD from the Milwaukee
Brotherhood of Firefighters (MBFF), a North Central Region (NCR) Chapter of the International
Association of Black Professional Firefighters (IABPFF). Within my career in the fire service I have held multiple positions within my local chapter,
region and international. I have always been active with the MBFF since I finished my probation. I went from being a member to corresponding secretary from 2010-2013 to President of the MBFF from 2013-2017. But during this time period of holding positions in my local chapter, I began being more active with the NCR. And while starting to be more active within the region I was selected to 2nd Vice Director in 2015 and 1st Vice Director and membership chair of the IABPFF in 2016. In 2017 I ran for the position of NCR Director in 2017 and I have held this position since 2017 to the present. It is my belief that if you want to effect change you must take a stance. So if you look around and you're not satisfied with the way things are; get involved and be a part of the change. All I Am I Owe I Live Eternally in The Red.