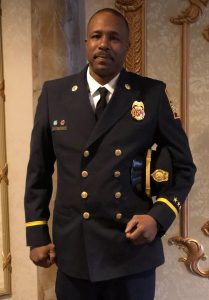 Born and raised in Washington DC. Still a current resident, Robert Pearson began his career in the Fire Service December 17TH, 1990 with the District of Columbia Fire and Emergency Medical Services Department. Robert is a dedicated Fire and EMS manager with strong qualifications in budgeting, personnel affairs, training, resource management, information technology, public safety, and emergency response. He has well-developed leadership and analytical skills. Robert has a reputation for strong work ethic and an uncompromising devotion to service.
Robert honed his skill as a manger by completing the Executive Development Institute and the plethora of training he received at the University of Maryland – Maryland Fire and Rescue Institute, the University of the District of Columbia, Howard University, the National Fire Academy – Emmitsburg, Maryland, Pennsylvania Boat and Fishing Commission, and his service in the United States Marine Corps. He is also a NIMS Instructor for FEMA. His unwavering dedication to perfecting his technical skills and proficiencies has propelled him in many facets of the fire service.
Robert began his membership with the International Association of Black Professional Firefighters (IABPFF) in 1996. He obtained a position on the Executive Board of the Progressive Firefighters Association of Washington DC as the Financial Secretary in 2002. Presently, holding the position of 2ND Vice President. Robert was appointed the IT Char of the Southeast Region in 2016. He also hold the position of Assistant IT Chair for the IABPFF.
Elected to Southeast Regional Director in 2023